I'm at the Samsung Blogger Lounge at the South By SouthWest conference and I've been given (*disclosure) a Samsung Galaxy Tab. It is a 7″ Android tablet,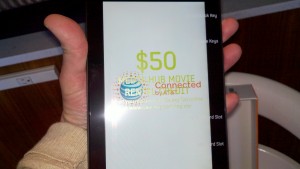 smaller and about as thin as an iPad v1. The tab fits in my hand quite nicely, as you can see from the picture below. The screen is really bright, and the device "feels" solid. It does resemble a large cell phone in form factor, and has a front and rear facing camera.
The one thing I've noticed as compared to my own DroidX phone, is that, though they both have a 1Ghz processor, the Galaxy Tab is much, much snappier in response. At about 14oz it's pretty similar in feel to the previous version of the Kindle, but is way more functional. In fact, I'm much happier carrying this around than I am my iPad v1, which, with it's case, is closer to 1.8 pounds.
Additionally, the tab is attracting a lot of attention. I've shown it around a lot over the 2 days that I've had it, and everyone has picked it up and commented on the form factor.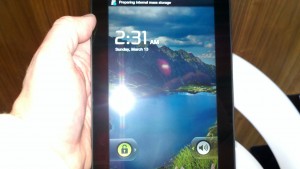 It has a great photo gallery app, and I really like the calendar and Gmail implementations.
One disappointment is that Skype still hasn't released a client that works with video on Android – this unit has a front-facing camera that would make calling home fun.
I'm still testing this out, but I'm pretty sure I'm going to be carrying this unit around a lot when I get back to New York . Let me know if you want to try it out. And, watch for me being interviewed tomorrow around 4pm Eastern on the Samsung SXSWi website.
*Disclosure: The views and opinions expressed are my own and did not come from Samsung or their agency. I was compensated by Samsung with this Galaxy Tab for my review and use.