I recently contributed a Facebook Marketing whitepaper to Vocus. In that paper, I talked about Facebook's new Graph Search. In the two weeks since that paper was released, Facebook rolled out Graph Search for everyone in the US. What does Graph Search mean to your business?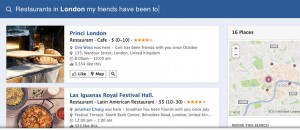 As you can see by the example above, Graph Search lets Facebook users search things like "Restaurants in CITY my friends have been to." If you're an in-person, brick and mortar business, this kind of searching may change the way you get customers. People often rely upon the suggestions of friends when they're making choices for restaurants, stores, or other places to make purchases. Facebook is making that data more easy to find. Additionally, they've added a "nearby" feature to the mobile app, letting you see places your friends check into and like that are near where you are.
For more about the New Ways to Get Found on Facebook, check my guest post over at Vocus.